For our latest Meet a Mom, we spoke with Julie Cottineau.  Julie is a global branding expert, CEO & founder of BrandTwist brand consultancy and former VP of Brand for Richard Branson's Virgin Group. She is passionate about helping businesses, non profits, and entrepreneurs TWIST their personal and corporate brands to stand out in crowded markets. She is the author of the best selling branding book TWIST: How Fresh Perspectives Build Breakthrough Brands. 
We spoke to Julie about a wide range of topics from family and life in the Rivertowns, to her career, her love of entrepreneurism and how small business owners can learn to TWIST their own brands!
How many kids do you have and what are their ages?
We have two children. My daughter Chloe is 24 and a middle school teacher in the Bronx. My son, Sacha, is 20 and a junior in college at the University of Rhode Island. I have a third "fur-baby", Teddy the Wonder Beagle. He is 7.
What do you love about living in the Rivertowns?
There are so many things I love about living here. We've been Rivertowns residents since 2001. One of the things I love the most are the views of the Hudson. I grew up in a seaside town in Massachusetts and spent my summers by a lake at camp in New Hampshire. Being near water inspires me. I guess I am a true water-loving  Pisces!  I take Teddy on a long walk each morning and the end of each day on a local road where we have tremendous views of the river. Even though I am not technically "working" on these walks, creative solutions always pop in my head. The challenge is holding onto his leash while texting the ideas to myself so I will remember them when I get back to my office.
What are your favorite things to do/places to shop and dine in the Rivertowns?
I love the beautiful (female founded) co-working space HudCo down by the water in Dobbs Ferry. I have a home office, but I also have a HudCo membership and spend at least one day a week there. I find I am often more productive when I change my scenery and I like interacting with the other members. I also love Barre 3 Rivertowns, Becca and her team have created such a warm and welcoming space. I feel myself getting clear in my head, even before the workout begins. Lastly, for dining, I have to say Boro6 in Hastings on Hudson. They have expanded the kitchen and the menu. The wine list is amazing. Full disclosure, my husband Fred works in the kitchen there, but I would go anyway – just for the Olive Oil Citrus Cake. Trust me on that one!
What is one thing people would be surprised to know about you?
When I was about 8 years old, I invented the Pet Rock. My parents wouldn't let me get a pet because my brother was allergic. So I went out to the garden and put a rock in a plastic Cool Whip container, poked holes in the top so he could breathe… and created my own Pet Rock. This was a few years before Pet Rocks became a fad in the US. Gary Dahl made over $6MM on this idea, but I like to say I had it first! It just shows you the importance of getting to market with your inventions quickly, even if they are not perfect.
Tell us about your career and background, how did it bring you to Brand Twist?
I began my career in advertising at Grey Global, both in New York and Paris, went on to become Executive Director of Consumer Branding at Interbrand, and then was recruited to be the VP Brand at Richard Branson's Virgin Management. While at Virgin, I fell in love with entrepreneurism, and I took Richard's slogan of "Screw it. Let's Do it" to heart. I quit my job and started my own brand consultancy, BrandTwist, and my online Brand School ten years ago and have never looked back. The culmination of these experiences led me to write my best-selling book TWIST: How Fresh Perspectives Build Breakthrough Brands (Panoma Press).
How has your job and your company changed as a result of COVID?
I feel grateful that I have been working non-stop during COVID. This is a time when a lot of people are re-evaluating their lives, businesses, and career paths – so we've been working non-stop with 1 on 1 Brand Coaching, our online Brand School and with small and medium businesses helping them to pivot and meet changing customer needs.  In terms of how we deliver our content, we've been adapting it to what people need now. This means offering  :30 minute Brand Booster Sessions (vs. 60 minute consultations) and adapting our corporate workshops so they are Zoom-friendly with frequent break-out rooms, multiple shorter sessions, and some engaging pre-work before the sessions so Clients come ready to TWIST!.
You are also the founder of Brand School, can you tell us a little about that and  about your work with entrepreneurs?
Brand School Masterclass is the premiere program for entrepreneurs, small businesses, and non-profits who want to build more distinctive and profitable brands. Over 8 weeks, we combine LIVE online classes, practical tools and exercises, high touch coaching, peer group support and the TWIST-  a proven formula to transform business and professional brands. We've had over a thousand students since we started the class in 2013. The majority of the students are women (although men are certainly welcome) and many, many of them live in Westchester (although we've had students from around the world). Our next semester begins in January and we'd love to have some of your readers join. They can reach out to me at [email protected] for more information and to apply.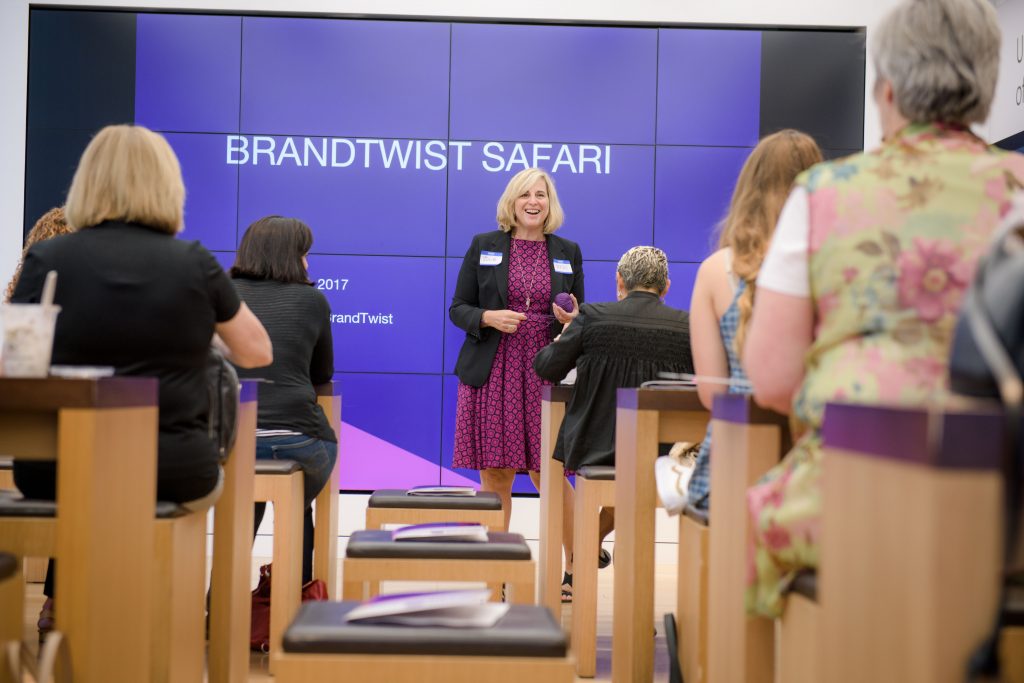 How do you balance your career and family life?  Any favorite tips you've received from a mentor or fellow mom?
I think "balance" is kind of an illusion, but I do strive to make sure I am nurturing both my family and work life. Whenever possible, I TWIST them together. For example, if I am working on a new project I will ask my kids their opinions about hot brands or trends in music, fashion, and social media. This always broadens my perspective. My son is actually studying communications so I've had him "intern" for me and accompany me on workshops. He'll take photos, set up the tech, and edit shorter replay versions of some of my webinars. My daughter loves podcasts, so she'll give me ideas for new ones to listen to for inspiration. My husband is a certified Sommelier and a wonderful self-taught chef. Several times he's helped me with wine and cheese receptions for clients and Brand School live events. I did a reading and reception at the Dobbs Ferry library for the launch of my TWIST book. The whole family pitched in and the next day my kids had bought me flowers to say congratulations – purple of course, my signature color. This really touched me. 
I think it's really important to have a passion for your work, and show your family it's not just a paycheck but an important element in your life. I learned that from my own mother. She was a real career woman, long before this was the norm. She started as a school teacher and then worked her way up in educational publishing mostly working for Scholastic Inc. in the textbook division. She traveled a bit when I was growing up, but she never missed our school events and we ate dinner most nights as a family. She passed away last year at 85, but I feel like I am continuing her legacy as an educator through my Brand School and my consulting work.
What are you looking forward to as we move into the holiday season and past COVID (hopefully!)?
I am looking forward to spending the holidays again with family – in person and not on Zoom. My mother-in-law is coming from France for Thanksgiving – we haven't been able to see her since the Spring of 2019!  We Facetime frequently, but I think it's going to be a very emotional reunion, with lots of hugs and bisous when we see her.
Where can we go to get more information about Brand Twist and Brand School?
In order to support the Rivertowns Moms Community, we are offering 1 on 1 Brand Booster Strategy Sessions with a special discount for Rivertowns Moms readers.
These Brand Booster sessions will help you hone your brand and how you market it. You will walk away with actionable ideas for your business and/or personal brand.
From now through the end of 2021, we will include a signed complimentary copy of my best-selling book TWIST: How Fresh Perspectives Build Breakthrough Brands with all Brand Booster sessions.
Enter code RIVERTOWNSMOMS at checkout.  You can also use this code on the book alone.  These make great holiday gifts to treat yourself or another mom in your life!